I discovered the dark chocolate and sea salt tender cookies (flower of salt) the first time I entered in Pierre Hermé boutique in rue Bonaparte in Paris.
I was soaking wet due to torrential rain.
It may have been because of the soft, stylish colours of the shop window, which displayed pyramids of pastel-coloured macarons, or because of the elegant environment, or due to the gracefulness of the young women, wrapping goods as if they were precious jewels…that I did not hesitate to queue along the golden barriers (something not stylish at all, but essential not to lose patience) and I expectantly waited my turn, while my fellow travellers were looking at me over the queue with commiseration.
They could not understand that Pierre Hermé's ones are not cookies, they are "the" cookies that everyone should eat: for breakfast, with the mid-morning coffee, with the afternoon tea and with the goodnight milk. You don't believe it either.
And I tell you again: try the Sablés infiniment chocolate and flower of salt of Pierre Hermé (as he called them) and, if you don't get the chance, then make them.
Get some excellent quality butter, and you'll be able to recreate most of the magic. The recipe requires, on top of excellent butter, the use of fleur de sél, which will enhance the power of the cocoa and of the chocolate at every bite.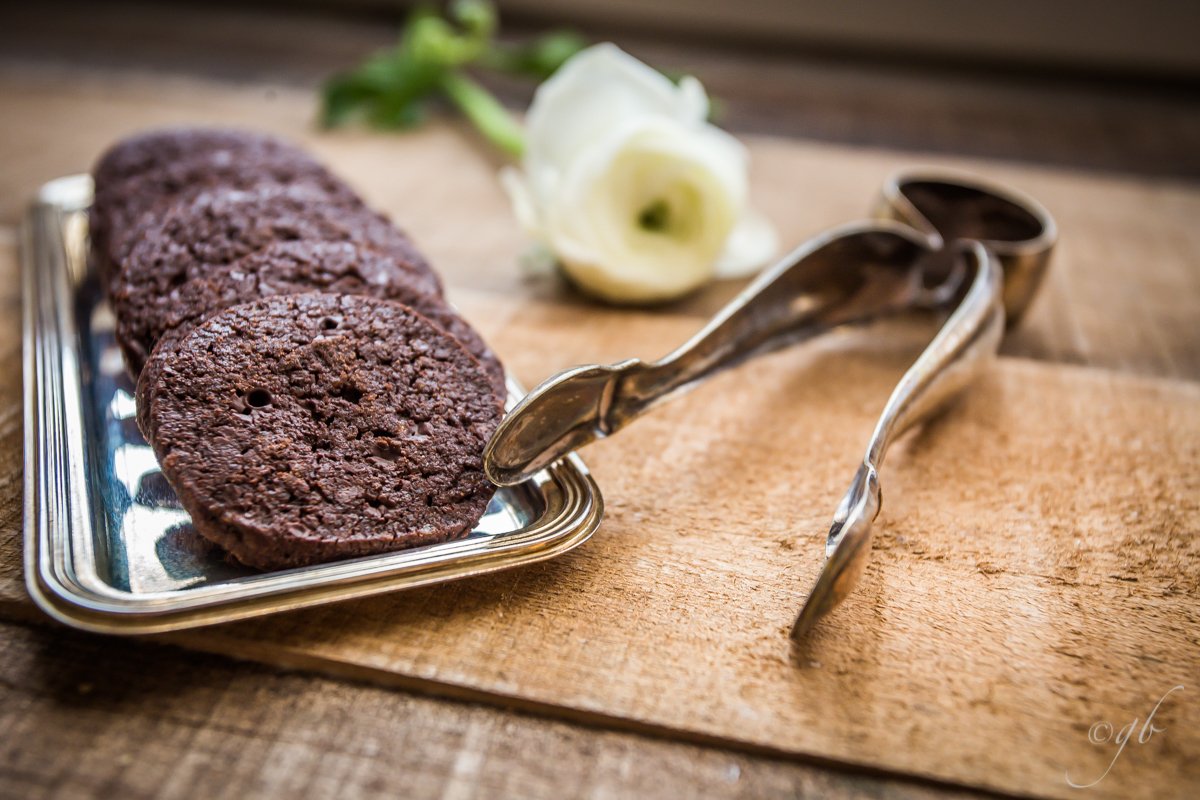 TIPS
for dark chocolate and sea salt tender cookies
1. Don't overwork the batter: it must be well combined at each step, but don't use your hands other than when strictly required to shape it.
2. To always have some cookies at the ready, when I have time I prepare some batter logs and I keep them in the freezer wrapped with cling film. When I need them, I take a log out of the freezer and once it softens a bit (approximately after 20/30 minutes) I slice it into cookies.
3. Don't bake them for longer than indicated.
4. They keep well for a few days in a tin or glass container.
EQUIPMENT
Sharp knife with straight, thin blade
Electric mixer or food machine with creaming beater
sieve
INGREDIENTS & METHOD
150 g excellent quality
70% dark chocolate
30 g unsweetened cocoa
175 g all-purpose flour
50 g powdered sugar
120 g cane sugar
150 g excellent quality butter at room temperature
3 g flower of salt
5 g baking soda
one teaspoon liquid vanilla extract
To make perfect Dark chocolate and sea salt tender cookies, begin by chopping the chocolate with a knife into thin shavings.
In a bowl mix the flour, the cocoa and the baking soda, then sift everything three times. In the food machine bowl, beat the butter with the creaming beater until creamy. Now add the cane sugar, the powdered sugar, the flower of salt and the vanilla extract. Mix until well combined, then add the sifted powders and the chocolate shavings.
It is essential to mix quickly, just the time required to combine the ingredients; the chocolate shavings shouldn't break down too much. With a spatula, pour the batter into parchment paper and shape it with your hands. Divide it into two parts, and then each piece into further two parts. Take each piece and shape it into a log of approximately 4/5 cm diameter. Try to keep a cylindrical shape, sides included, pressing down as required where the log crumbles. Once all logs are done, wrap them into cling film and refrigerate them for at least 3 hours.
Pre-heat the oven to 180°in static mode. With a very sharp, thin-blade knife, slice cookies 1 cm thick. If the log crumbles or becomes misshapen, use your fingers to re-shape the log into cylindrical shapes.
Line a baking tray with parchment paper and place the cookies a few cm away one from the other; cook for no more than 12 minutes.
Just out of the oven, the Dark chocolate and sea salt tender cookies will look soft and undercooked, but that's not the case: once cool the cookies will be tender, crunchy and firm.